This is part 3 in a series. See the part 1 here, part 2 here, and part 4 here.
Immi­gra­tion is not the most emo­tion­al­ly charged polit­i­cal debate in Amer­i­ca today (abor­tion is far more emo­tion­al). But immi­gra­tion sits at the nexus of sev­er­al extreme­ly emo­tion­al top­ics like iden­ti­ty, race, class, and inclu­sive­ness (here is an excel­lent book on this inter­sec­tion). But does pub­lic lead or fol­low how polit­i­cal lead­ers behave and pass laws? As is becom­ing a theme, the answer is a bit com­pli­cat­ed.
In a recent study that exam­ined how sen­ti­ments expressed on Twit­ter changed in rela­tion to an extrem­ist anti-immi­gra­tion law passed in Ari­zona, Rene Flo­res found that anti-immi­grant poli­cies can "stir the pot" and mobi­lize anti-immi­grant indi­vid­u­als. This mobi­liza­tion effect was nar­row­ly tar­get­ed at the tar­get of the pol­i­cy, so in this case the mobi­liza­tion against Lati­nos did not result in a mobi­liza­tion against African-Amer­i­cans or Asian immi­grants. Even so, the effect is real — racist peo­ple real­ly do get embold­ened by racist pol­i­cy and cre­ate the impres­sion that racism is grow­ing in pop­u­lar­i­ty. It mat­ters.
And this embold­en­ing can be con­ta­gious. What we think of as "the pub­lic" is not the sum total of every­one in a com­mu­ni­ty — it is usu­al­ly a com­bi­na­tion of the most vocal, and the most will­ing to speak up to jour­nal­ists or in instru­ments like sur­veys. A major chal­lenge to cre­at­ing any sort of poll is a respon­dent giv­ing answers that reflect the assumed bias­es of the polling com­pa­ny, rather than their own beliefs. In elec­tions were race is a fac­tor, this is called the Bradley Effect, where­by peo­ple will tell poll­sters they'll vote for a minor­i­ty can­di­date but intend to vote for a white can­di­date; more broad­ly in sur­veys it's called the response bias. This bias can have a major effect on how the media frame issues, and snow­ball unpop­u­lar opin­ions to a per­ceived pop­u­lar­i­ty.
Thus, we have a mech­a­nism for how nor­mal­iz­ing anti-immi­grant atti­tudes with anti-immi­grant poli­cies can change the make­up of pub­lic opin­ion on a top­ic by mak­ing anti-immi­grant peo­ple more vocal and oth­ers who may think it is expect­ed to be anti-immi­grant to voice those sen­ti­ments. Think of how politi­cians band­wag­on on catch phras­es like "of course we should enforce the law" when they real­ly want to change the law in a more humane direc­tion (there's also the oppo­site, overen­force­ment, which is how the Trump White House jus­ti­fies its cru­el­ty toward migrants). The feed­back loop of media cov­er­ing racist per­spec­tives on immi­gra­tion as if they're main­stream cre­ates the per­cep­tion effect that immi­grants are less accept­ed than they real­ly are, which can have a fur­ther effect on how pro-immi­grant peo­ple mobi­lize. In oth­er words, opin­ion and per­cep­tion don't exist in a vac­u­um — they can both dri­ve out­comes and be shaped by the media and polit­i­cal envi­ron­ment.
As an exam­ple, con­sid­er how Trump's first cam­paign speech, where­in he called Mex­i­can immi­grants rapists and drug deal­ers, res­onat­ed in pre­vi­ous­ly fringe areas of white griev­ance pol­i­tics. Mar­i­lyn Mao, of the Anti-Defama­tion League's Cen­ter on Extrem­ism, said that the white suprema­cist move­ment had been "ener­gized" by the rhetoric he deployed to talk about immi­grants. Storm­front, a white suprema­cist web­site, ful­some­ly praised Trump in the ear­li­est days of his cam­paign; for­mer Ku Klux Klan leader David Duke has repeat­ed­ly praised Trump, and the neo-nazi Richard Spencer cel­e­brat­ed the elec­tion with a Nazi salute while scream­ing "Heil Trump."
Groups that pre­vi­ous­ly act­ed as mar­gin­al began to act like they were main­stream. The media duti­ful­ly fol­lowed the trend and flood­ed the zone with chum­my pro­files of white suprema­cists that por­trayed them as if they were valid mem­bers of soci­ety instead of the out­casts they were just a year pre­vi­ous­ly. This is a feed­back loop, where­by the per­cep­tion of white suprema­cy being main­stream leads to media treat­ment of it as main­stream — and it can lead to reg­u­lar peo­ple think­ing it is a main­stream belief, too.
The data about how embold­ened white suprema­cy has become is wor­ry­ing. Mark Potok of the South­ern Pover­ty Law Cen­ter said that Trump's use of dehu­man­iz­ing rhetoric was being "tak­en as a per­mis­sion-giv­ing by crim­i­nal ele­ments who go out and act on their words." Hate crimes are ris­ing pre­cip­i­tous­ly, and there are wor­ry­ing signs that police forces are active­ly col­lab­o­rat­ing with far right and white suprema­cist protest lead­ers even at the fed­er­al lev­el. The main­stream­ing of this belief sys­tem is mea­sur­able, and it is grow­ing: a recent Pew sur­vey found a major­i­ty of Amer­i­cans think that race rela­tions are get­ting worse, and think this divi­sion is being dri­ven by Don­ald Trump and his admin­is­tra­tion.
How­ev­er, it is not yet clear that Trump's rhetoric has influ­enced the over­all atti­tude of the pub­lic toward immi­grants. A recent nation­al sur­vey shows that while only 45% of Amer­i­cans know most immi­grants are in the coun­try legal­ly, a super­ma­jor­i­ty of Amer­i­cans feel sym­pa­thy toward all immi­grants, both doc­u­ment­ed and undoc­u­ment­ed. And over the last two decades, pub­lic oppo­si­tion to immi­gra­tion has dropped dra­mat­i­cal­ly and remains his­tor­i­cal­ly low com­pared to the ear­ly 1990s, even as the num­ber of undoc­u­ment­ed immi­grants has fall­en to his­toric lows. Even among Lati­nos, there has a sea change in opin­ion about immi­gra­tion: in 2002 around half felt there were too many Lati­no immi­grants, while now around half think there are just the right amount. So the pub­lic isn't nec­es­sar­i­ly being led by the nose about a nativist crack­down.
But oth­er pub­lic sen­ti­ment polls sug­gest that the White House's sharply neg­a­tive rhetoric toward immi­grants is hav­ing an effect. In mid-2018, Gallup report­ed a sharp increase in the num­ber of Amer­i­cans who said immi­gra­tion was the top prob­lem fac­ing the coun­try, and this num­ber has held steady for over a year. It appears to be a reac­tion to an entire­ly invent­ed cri­sis: for fis­cal year 2017, the last year for which there was data from the Oba­ma admin­is­tra­tion, the C.B.P. report­ed bor­der appre­hen­sions had dropped to a 30-year low. A year lat­er, after the Trump admin­is­tra­tion imple­ment­ed its var­i­ous anti-immi­grant poli­cies, appre­hen­sions began to spike again but remained his­tor­i­cal­ly very low.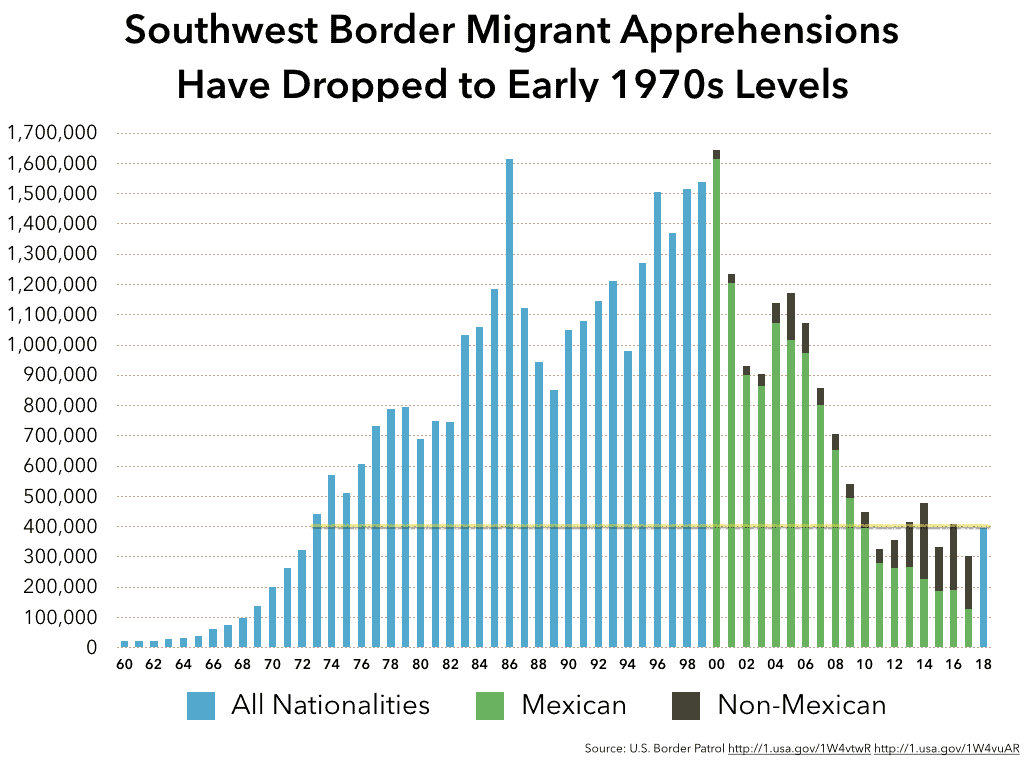 How could peo­ple per­ceive there to be a his­toric prob­lem when the government's own data show the oppo­site? Part of it is the president's abil­i­ty to shape the nation­al agen­da by invent­ing con­tro­ver­sy. This isn't just a rhetor­i­cal device — there is a gen­uine human­i­tar­i­an cri­sis at the bor­der, but it is the result of delib­er­ate choic­es to harm immi­grants, not any resource or pol­i­cy gap that's being exploit­ed. In Jan­u­ary of 2019, a leaked memo from the Depart­ment of Home­land Secu­ri­ty shows that dur­ing a peri­od of his­tor­i­cal­ly low migra­tion, the fed­er­al gov­ern­ment draft­ed a pol­i­cy to specif­i­cal­ly tar­get fam­i­lies seek­ing asy­lum for mis­treat­ment in the hopes that such mis­treat­ment would deter oth­er migrants. At the same time, in 2017 the admin­is­tra­tion closed down in-coun­try asy­lum pro­cess­ing cen­ters in Cen­tral Amer­i­ca, which left a jour­ney to the bor­der as the only remain­ing option for peo­ple from the three pri­ma­ry send­ing coun­tries seek­ing asy­lum (this is apart from the many struc­tur­al "push" fac­tors inspir­ing peo­ple to leave their homes, and the many "pull" fac­tors that make the U.S. unique­ly attrac­tive as a des­ti­na­tion). Last­ly, the White House had declined to assign addi­tion­al resources to fair­ly house migrants who await hear­ings or to expand the courts and per­son­nel need­ed to adju­di­cate claims — rather, the pres­i­dent has focused on mis­us­ing the mil­i­tary and mis­ap­pro­pri­at­ing funds to build a wall that won't address the cur­rent back­log of peo­ple trapped in abu­sive con­di­tions.
This gap in per­cep­tions is some­thing the admin­is­tra­tion is count­ing on: they assume most peo­ple won't real­ize the cri­sis is entire­ly self-gen­er­at­ed with the intent of impos­ing cru­el­ty. And that is because the pub­lic can also exert influ­ence on pol­i­cy. When the first news broke of the fam­i­ly sep­a­ra­tion pol­i­cy, the out­cry was sus­tained and fierce — to the point of direct­ly con­fronting offi­cials in pub­lic, dur­ing their "off" hours. The mas­sive amount of pres­sure exert­ed by peo­ple out­raged by the sight of young chil­dren scream­ing for their par­ents, sleep­ing on con­crete floors in cages, was ampli­fied by friend­ly media cov­er­age. The onslaught made it impos­si­ble for offi­cials to get their own mes­sages into the pub­lic, and after sev­er­al months they relent­ed… sort of (abu­sive poli­cies and treat­ment have con­tin­ued, but with less trans­paren­cy).
More recent­ly, efforts to expose the ongo­ing abuse of young chil­dren in immi­gra­tion deten­tion has had a hard­er time gain­ing trac­tion. Out­rage fatigue is real and it lim­its just how often the pub­lic can be mobi­lized — espe­cial­ly when it results in min­i­mal or no change at the pol­i­cy lev­el (the immu­ni­ty of the Trump admin­is­tra­tion to broad pub­lic oppo­si­tion at most of its poli­cies is sure­ly an inter­est­ing dis­ser­ta­tion top­ic). Plus, there has been a mass mobi­liza­tion of dis­in­for­ma­tion onto social media to push mis­lead­ing nar­ra­tives about immi­grants approach­ing the south­ern bor­der — some of them are bots, many are essen­tial­ly cit­i­zen pro­pa­gan­dists moti­vat­ed by pro­found­ly bath faith about the issue. As a result, pub­lic com­ments on news about migrants is filled with hate­ful, dehu­man­iz­ing speech about chil­dren in cages, as if their lack of an immi­grant visa means they should be denied things like soap and tooth­brush­es. By employ­ing FUD — fear, uncer­tain­ty, doubt — and the public's gap in knowl­edge, the Trump admin­is­tra­tion hopes to get away with its dehu­man­iz­ing abuse of the peo­ple in deten­tion.
Sur­veys show that Amer­i­can atti­tudes toward immi­gra­tion are more com­plex than sim­ply pro- or con, no mat­ter what the weird sig­nal boost­ing of social media algo­rithms might have you believe. Amer­i­cans tend to have two com­pet­ing desires: a gen­er­al sense that immi­gra­tion should be reduced or kept low but also a strong sense that refugees should be admit­ted, fam­i­lies reuni­fied, and skilled labor from abroad recruit­ed. The com­bi­na­tion of both instincts gives a broad lee­way for what might be con­sid­ered main­stream in immi­gra­tion pol­i­cy. As lead­ers respond to these dif­fer­ent com­pet­ing desires, immi­gra­tion pol­i­cy can shift dra­mat­i­cal­ly while still being broad­ly with­in the realm of "sup­port­ed by the pub­lic."
The con­tra­dic­to­ry impuls­es of the pub­lic also pro­vide an oppor­tu­ni­ty for activists to shift the nar­ra­tive. Groups like RAICES have dra­mat­i­cal­ly grown due to an influx of dona­tions, and giv­en their mis­sion they have a lot of pow­er to frame an agen­da dur­ing media cov­er­age — assum­ing a jour­nal­ist can be con­vinced to stray out­side offi­cial sources while report­ing a sto­ry.
Seen in this light, then, there remains an oppor­tu­ni­ty to con­tin­ue to con­strain the worst abus­es of the Trump admin­is­tra­tion through con­tin­ued pub­lic out­reach and sus­tained pres­sure on his offi­cials who are enforc­ing them. A minor­i­ty of the pub­lic believes that the abu­sive con­di­tions at the deten­tion camps jus­ti­fy call­ing them "con­cen­tra­tion camps," but recent Con­gres­sion­al del­e­ga­tions to the bor­der, along with inves­tiga­tive jour­nal­ism, has the poten­tial to fur­ther shift opin­ion. We'll explore how to do that in the next install­ment.