Note: This is the long­form ver­sion of a series I post­ed in July, 2019
While immi­gra­tion has been a top­ic of debate in this coun­try for many decades, the 2015 announce­ment of Don­ald Trump's can­di­da­cy for the Pres­i­dent, which fea­tured the pres­i­dent derid­ing Mex­i­cans as rapists and drug deal­ers, sparked an imme­di­ate con­cern: will a can­di­date for pres­i­dent open­ly run­ning on dehu­man­iz­ing rhetoric toward migrants of Lati­no ori­gin have a real world impact?
A com­mon response to the extreme rhetoric spo­ken by the pres­i­dent and his advi­sors is to ignore it — after all, words mean lit­tle com­pared to actions, and actions are what real­ly count. And while the immi­gra­tion poli­cies the admin­is­tra­tion has imple­ment­ed are mean­ing­ful in that sense and have inflict­ed mea­sur­able, last­ing harm to men, women, and chil­dren alike, I am inter­est­ed in the way the White House frames those bru­tal poli­cies. Does the fram­ing mat­ter? Does it make things worse? And if so, can it be coun­tered?
In the four years since Trump's ini­tial speech, both his cam­paign and his admin­is­tra­tion have engaged in an ongo­ing dis­in­for­ma­tion cam­paign against immi­grants of Lati­no her­itage. He tweets a non-stop string of lies, more than 10,000 of them since his inau­gu­ra­tion, and many of them use dehu­man­iz­ing lan­guage to describe (non-white) immi­grants and the com­mu­ni­ties where (non-white) immi­grants tend to live. Before the 2018 midterm elec­tions, Trump latched onto the sto­ry of a "car­a­van" of migrants flee­ing vio­lence in Cen­tral Amer­i­ca and head­ing north to seek asy­lum in the U.S. — a fear-mon­ger­ing cam­paign based on noth­ing more than pan­ic about brown peo­ple. Even so, Trump suc­cess­ful­ly used the fear he drummed up over this "car­a­van" to send U.S. troops to the bor­der in a move of dubi­ous legal­i­ty (espe­cial­ly giv­en its usage as a cam­paign stunt).
For every bru­tal pol­i­cy designed to strip peo­ple of their dig­ni­ty, safe­ty, and health, one can find lan­guage issued by the gov­ern­ment to jus­ti­fy such treat­ment. The admin­is­tra­tion has but­tressed its harsh rhetoric against immi­grants with a cam­paign to encour­age law enforce­ment bru­tal­i­ty (in a 2017 speech, he called peo­ple of lati­no descent "ani­mals" and urged the police to be more vio­lent toward them). This is jus­ti­fied by claims that law enforce­ment — pri­mar­i­ly Immi­gra­tion and Cus­toms Enforce­ment, or ICE, are "only enforc­ing the law" — even when those cam­paigns vio­late the law and are stymied by court orders. The administration's actions also include human rights vio­la­tions like child sep­a­ra­tion, decrepit con­di­tions in deten­tion, con­stant vio­la­tions of court orders to safe­guard the basic rights of detainees, and dozens of deaths due to neg­li­gent care — all jus­ti­fied by appeals to either the law or the minor­i­ty party's "refusal" to pass addi­tion­al laws despite not con­trol­ling the Sen­ate or the White House.
Some of these actions are less direct in their effect. The ICE "enforce­ment" cam­paign has suc­cess­ful­ly made more Lati­nos afraid for their per­son­al safe­ty than any time in the last decade, and there as been a dra­mat­ic rise in hate crimes against peo­ple per­ceived to be of Lati­no ori­gin since Trump's inau­gu­ra­tion as Pres­i­dent.
But that doesn't mean the two are con­nect­ed — after all, cor­re­la­tion is real, and two things can hap­pen at once with­out one caus­ing the oth­er. Is there a way to show that the wors­en­ing state of the Lati­no com­mu­ni­ty, both from direct police action and in a broad­er social sense, is linked to the President's rhetoric? There is sub­stan­tial research that elite opin­ion can dri­ve pub­lic opin­ion about immi­gra­tion and nation­al iden­ti­ty — with exclu­sion­ary mes­sages being much eas­i­er to seed into the pub­lic dis­course than uni­fy­ing mes­sag­ing. So what is the con­nec­tion? After all, many Lati­nos already felt fear and alien­ation from main­stream Amer­i­can soci­ety due to immi­gra­tion enforce­ment under pre­vi­ous pres­i­dents. Can you real­ly say that the cur­rent low state is because of Trump and not a trend that was already in place?
This is a com­pli­cat­ed ques­tion, but one for which there is research that can help us under­stand.
Overview: Presidential Rhetoric
Polit­i­cal sci­en­tists have found mixed evi­dence that the lan­guage choic­es employed by the "bul­ly pul­pit" of the White House can affect pub­lic atti­tudes toward ques­tions of pub­lic pol­i­cy – par­tic­u­lar­ly in terms of prim­ing and agen­da set­ting in media cov­er­age. Fur­ther­more, the degree to which pres­i­den­tial rhetoric real­ly does affect pub­lic atti­tudes on a giv­en top­ic is not always clear.
In some cas­es, pres­i­den­tial rhetoric can appeal to a wide vari­ety of peo­ple and thus shift pub­lic atti­tudes, but the effect is not con­sis­tent: the cir­cum­stances have to be just right in order to mean­ing­ful­ly shift sen­ti­ment. The way in which pres­i­den­tial rhetoric is struc­tured can also have an effect, where­by an admin­is­tra­tion adopt­ing sim­pli­fied, anti-intel­lec­tu­al lan­guage on a pol­i­cy can affect pub­lic atti­tudes, espe­cial­ly amongst those already inclined to sup­port and believe him. This means Pres­i­dent Trump is well suit­ed to shift­ing pub­lic atti­tudes, as his use of sim­pli­fied, anti-intel­lec­tu­al pop­ulist lan­guage is inher­ent to his appeal in many quar­ters.
And it's impor­tant to keep in mind that Trump's appeal to the Repub­li­can Par­ty is more than his abil­i­ty to win elec­tion: Repub­li­cans tend to like Trump more after he says some­thing racist. Beyond ide­ol­o­gy, there is also mon­ey: one of the president's most impor­tant back­ers, Robert Mer­cer — respon­si­ble for plac­ing Steve Ban­non and Kellyanne Con­way with the cam­paign — is a direct ben­e­fi­cia­ry of a hard­line stance on immi­gra­tion (his hedge fund is heav­i­ly invest­ed in the pri­vate com­pa­nies that oper­ate pris­ons and immi­grant deten­tion camps for the gov­ern­ment). This sug­gests that Trump's already hos­tile atti­tude toward immi­gra­tion was appeal­ing for both the base of the par­ty and for at least one pow­er­ful king­mak­er in Repub­li­can cir­cles — but that does­n't estab­lish causal­i­ty between his lan­guage and the lived expe­ri­ences of Lati­nos.
There is evi­dence that the par­ti­san make­up of an audi­ence can deter­mine how recep­tive it is to White House rhetoric on immi­gra­tion in par­tic­u­lar – unsur­pris­ing­ly, par­ti­sans tend to agree with their own par­ty more strong­ly than non-par­ti­sans. Thus, while many in the par­ty already agreed with his hard­line stances on immi­gra­tion, the pres­i­dent is almost cer­tain­ly fur­ther rad­i­cal­iz­ing Repub­li­can atti­tudes toward immi­gra­tion in an inten­tion­al way. It is unclear, how­ev­er, whether the rhetoric used by the White House is alter­ing broad­er pub­lic atti­tudes toward immi­gra­tion in gen­er­al. While a major­i­ty of Amer­i­cans still broad­ly favor immi­gra­tion, there is a widen­ing gap between the par­ties that could be mask­ing a deep­er move­ment in atti­tudes. The data just aren't there yet.
So, let's explore how this whole thing works! The rest of this essay will explore some of the empir­i­cal research that ana­lyzes how Pres­i­den­tial and elite rhetoric shape pub­lic atti­tudes, what role the media play, and whether there is some­thing good peo­ple can do to oppose such divi­sive tac­tics.
Racism
Some­what aston­ish­ing­ly, it remains con­tro­ver­sial in some quar­ters to describe the president's rhetoric as racist. News orga­ni­za­tions have strug­gled with how to address lan­guage that is very clear­ly racist in its for­mu­la­tion (NPR pars­es the chal­lenge as "using the word 'racist' to describe the tweets, not the man who wrote them"). In fact, one of Trump's inno­va­tions in pres­i­den­tial rhetoric is suc­cess­ful­ly dis­rupt­ing the typ­i­cal dis­course of how we can approach describ­ing lan­guage.
What makes Trump's rhetoric so unique­ly dis­rup­tive? One way to think about this is by exam­in­ing just how strong­ly he breaks with more than a cen­tu­ry of oth­er pres­i­dents. In this regard, he is a unique­ly destruc­tive speak­er: a 2017 analy­sis of just 100 days of his state­ments in office revealed a "break" from decades of "san­i­tized, prepack­aged rhetoric of pre­de­ces­sors." The researchers go on:
His apoc­a­lyp­tic con­trast­ing of demise and deliv­er­ance, pars­ing of indi­vid­u­als as win­ners and losers, and demo­niza­tion of those with whom he dis­agrees also dif­fer­en­ti­ate Trump's rhetor­i­cal reper­toire from that of those who pre­vi­ous­ly held the office… Final­ly, more so than past pres­i­den­tial con­tenders, when it serves his advan­tage, Trump ques­tions the integri­ty of demo­c­ra­t­ic insti­tu­tions, some of which can hold a pres­i­dent account­able for abuse of pow­er or mis­use of evi­dence, includ­ing the elec­toral sys­tem, the courts, the jus­tice sys­tem, and the media.<
In oth­er words, his use of divi­sive speech toward immi­grants who are not white is con­sis­tent with a broad­er "burn the boats" approach to Trumpian pol­i­tics that is going to leave an indeli­ble mark on Amer­i­can soci­ety. It is impos­si­ble to approach those words with­out acknowl­edg­ing that they are, def­i­n­i­tion­al­ly, racist. And this use to lan­guage to destroy and dehu­man­ize non-white peo­ple, espe­cial­ly immi­grants, is cal­cu­lat­ed, inten­tion­al, and work­ing.
So, know­ing that pres­i­dent Trump is a unique­ly divi­sive pres­i­dent whose lan­guage is unique­ly hate­ful, what can we learn by study­ing it in detail? For one, Trump's racism taps into America's orig­i­nal sin, which is the vio­lent belief sys­tem of white suprema­cy. At its very core, the U.S. Con­sti­tu­tion enshrines the suprema­cy of white men over black men and women as an insti­tu­tion so sacred it was defend­ed for near­ly a cen­tu­ry before prompt­ing the most destruc­tive war the coun­try has ever faced (and the descen­dants of the losers of that war still fly the flag of slav­ery, proud­ly, and expect oth­ers to believe it is real­ly about "her­itage").
In fact, racist resent­ment toward minori­ties and anti-immi­gra­tion beliefs are one of the strongest indi­ca­tors of sup­port for Trump, accord­ing to a mas­sive 2018 study of sur­vey data — even more so than out­law­ing abor­tion, which ener­gized the evan­gel­i­cal base but remains a deeply unpop­u­lar idea in the broad­er elec­torate (and has its own her­itage steeped in white suprema­cy as well).
Because of Trump's direct line to this endur­ing arti­fact of Amer­i­can soci­ety, he res­onates with a lot of peo­ple who might not oth­er­wise find his style appeal­ing (indeed most Repub­li­can oppo­si­tion to him is aes­thet­ic, rather than sub­stan­tive — they think he's crass, not that he's wrong). It takes a lot of seman­tic twist­ing and turn­ing to not describe the president's racist lan­guage about immi­grants as any­thing oth­er than racist. Recent­ly, his "go back where you came from" — direct­ed at three women of col­or who were born here and one who's been a cit­i­zen longer than the First Lady — is the most open embrace of this racism he has yet expressed. Trump's own gov­ern­ment, the Equal Employ­ment Oppor­tu­ni­ty Com­mis­sion specif­i­cal­ly lists it as dis­crim­i­na­to­ry lan­guage.
Trump fol­lowed that up with a fas­cist ral­ly where he nod­ded along with the crowd bey­ing "send her back" about a sit­ting mem­ber of Con­gress who nat­u­ral­ized after she was admit­ted as a refugee (Trump dis­avowed the chant after he real­ized it played poor­ly in the media, then reversed his dis­avow­al, because he real­ly doesn't dis­agree with it). His polit­i­cal ral­lies have become clear asser­tions that only white­ness counts as Amer­i­can, and any oth­er skin col­or is less legit­i­mate. That the entire Repub­li­can par­ty has closed ranks to defend him while deny­ing the plain spo­ken racism they rep­re­sent sug­gests that coun­ter­ing this hate speech will not come from the polit­i­cal sphere. It has to come from else­where.
Inter­nal­iz­ing the real­i­ty of an open­ly white suprema­cist pres­i­den­cy is not easy. No one real­ly wants to admit that such a per­son could win an elec­tion — even those who study pol­i­tics pro­fes­sion­al­ly (as Sam Page and Jason Dettmer, pro­fes­sors at Uni­ver­si­ty Col­lege Lon­don and the Uni­ver­si­ty of North Car­oli­na, respec­tive­ly, put it, "we under­es­ti­mat­ed the degree to which the Repub­li­can­Par­ty had become a proxy for white suprema­cy"). Indeed, Trump has run his admin­is­tra­tion as "white counter-rev­o­lu­tion­ary pol­i­tics", where­by he became the sym­bol of a sort of racial immune response by white peo­ple against mar­gin­al­ized groups gain­ing equal­i­ty — some­thing baked into that orig­i­nal sin of racism that char­ac­ter­ized the for­ma­tion of this coun­try. This is not new ter­ri­to­ry for him — Don­ald Trump has been an infa­mous­ly big­ot­ed per­son for decades before he ran for pres­i­dent, but he only recent­ly learned how to mobi­lize that racism to ben­e­fit him­self. There is no sep­a­rat­ing his per­son­hood from his racism, for they are the same.
All of this is to say that Trump's anti-immi­gra­tion lan­guage and poli­cies don't reflect some height­ened con­cerns about the eco­nom­ic well­be­ing of the ordi­nary Amer­i­cans he claims are harmed by immi­grants — his dis­as­trous trade poli­cies and the 2017 tax cut cer­tain­ly are not tar­get­ed at help­ing ordi­nary Amer­i­cans — rather, they reflect white racial resent­ment that "the oth­ers" are gain­ing on them and will soon be "over­tak­en." And indeed, sur­vey data show that Trump's sup­port­ers are very much defined by this fear of a loss of sta­tus — most­ly in terms of fear­ing a "minor­i­ty major­i­ty coun­try," which means one that is less over­whelm­ing­ly white, but also more broad­ly fears about how one "can­not say" some­thing racist any­more with­out fac­ing back­lash. (Why one would fear being a minor­i­ty in an Amer­i­ca that is sup­pos­ed­ly not built on racist beliefs and sys­tems is, of course, not dis­cussed.)
By tap­ping into a pri­mal pathol­o­gy of Amer­i­can polit­i­cal life, one most peo­ple try not to acknowl­edge, Trump is "speak­ing the qui­et parts aloud" — that is, he is plain­ly speak­ing to an agen­da that is nor­mal­ly much eas­i­er to deny. And this lack of deni­a­bil­i­ty makes his words pow­er­ful, as he is the most pow­er­ful per­son in the coun­try telling peo­ple with vio­lent, extrem­ist views that they have legit­i­ma­cy and are val­ued.
Hence, study­ing and under­stand­ing how Trump talks about immi­gra­tion mat­ters if we want to under­stand just how he is chang­ing the Amer­i­can polit­i­cal land­scape, and even­tu­al­ly have a plan for how to reverse the onslaught of racism. The racist lan­guage he has deployed to tar­get immi­grants and Lati­nos has had real con­se­quences for peo­ple and mate­ri­al­ly affects their health.
Even a cur­so­ry glance at Trump's lan­guage with regard to racial minori­ties reveals how deep-seat­ed the racist phras­es and beliefs are it is. Con­sid­er:
Trump still insists the Cen­tral Park Five are guilty of mur­der despite copi­ous phys­i­cal and legal evi­dence they are not, because they are not white and there­fore guilty. He has nev­er recant­ed the 1989 ad he bought demand­ing their deaths as teenagers.
His con­tin­ued use of "Poc­a­hon­tas" to refer to Eliz­a­beth War­ren (who does have some Native ances­try, though not enough to claim offi­cial her­itage). Poc­a­hon­tas was a teenag­er abduct­ed by Eng­lish set­tlers; to use her name as a slur is tap­ping into cen­turies of Euro­pean mis­treat­ment and geno­cide against native peo­ple.
Then again, Trump has a decades-long his­to­ry of racist lan­guage toward Native Amer­i­cans — anoth­er data point that his lan­guage about immi­grants is not root­ed in eco­nom­ic con­cerns, but racial ani­mus.
Much like the Cen­tral Park Five, Trump false­ly insists that Barack Oba­ma was not a cit­i­zen of the Unit­ed States despite copi­ous evi­dence to the con­trary. So-called "birtherism" is naked­ly racist and wide­ly debunked as false. He has begun deploy­ing a sim­i­lar line of attack against pres­i­den­tial can­di­date Kamala Har­ris, who is the child of dark-skinned immi­grants.
He has a decades-long his­to­ry of dis­crim­i­na­to­ry and preda­to­ry behav­ior toward black peo­ple, includ­ing when he called African Amer­i­cans "lazy" in the ear­ly 1990s. The Depart­ment of Jus­tice sued him twice over ille­gal dis­crim­i­na­tion toward black ten­ants in his build­ings in New York.
Lati­nos, as well: "When Mex­i­co sends its peo­ple, it is not send­ing their best… They're bring­ing drugs. They're bring­ing crime. They're rapists. And som, I assume, are good peo­ple."
Trump attacked a judge born in Indi­ana for being Mex­i­can, and thus unable to rule fair­ly in the law­suit over his ponzi scheme to defraud peo­ple through Trump Uni­ver­si­ty. Why would a judge of Mex­i­can her­itage be biased against him? See above.
Attack­ing non-white Amer­i­cans born here as hav­ing dual alle­giance, which nev­er mak­ing a sim­i­lar com­ment toward white peo­ple of Euro­pean descent, is a recur­ring theme.
For exam­ple, Trump asked an intel­li­gence ana­lyst con­duct­ing a pres­i­den­tial dai­ly brief­ing where she was "real­ly" from even though she was born here and main­tained a high lev­el secu­ri­ty clear­ance.
Trump's racism against peo­ple of Lati­no her­itage is so entrenched many white audi­ences think yelling his name is the same as express­ing anti-Lati­no racism.
The Mus­lim trav­el ban was anoth­er racist attack on immi­gra­tion.
After a neo-nazi mur­dered a young woman in Char­lottesville, Trump refused to con­demn the swastikas and said there were "some very fine peo­ple on both sides" of the march.
Trump pre­tend­ed he didn't know who for­mer

KKK

leader David Duke was when he endorsed Trump in 2016. Trump's fam­i­ly has a multi­gen­er­a­tional rela­tion­ship with the Klan.
That's only a par­tial list, the largest whop­pers. And despite that, peo­ple will still insist that he isn't real­ly racist. By some stan­dards, he is sim­ply inca­pable of racism, because the term "racist" is defined so specif­i­cal­ly no one will ever tru­ly meet it unless they lit­er­al­ly don a white hood and burn a cross. How­ev­er, after a cer­tain point, a decades-long his­to­ry of using "racial­ly charged com­ments" toward non-white peo­ple sim­ply becomes what it is: racism.
Being crys­tal clear about what Trump rep­re­sents is impor­tant. There remains strong social stig­ma asso­ci­at­ed with open racism, which means using plain lan­guage to describe this lan­guage and these poli­cies — as being root­ed in racism — is so impor­tant. Despite this, too many peo­ple and insti­tu­tions strug­gle with using plain lan­guage to describe what he does… includ­ing the media.
The Media
The media can frame how soci­ety views cer­tain issues: they can inflame sen­ti­ment or tamp it down, depend­ing on edi­to­r­i­al choic­es, lan­guage, and cov­er­age deci­sions. This is true of tra­di­tion­al broad­cast media and papers, and it is true for online and social media-based out­lets as well.
When it comes to cov­er­ing the White House there is often a soft adver­sar­i­al posi­tion tak­en — some deci­sions get chal­lenged, but in the mod­ern era White House cor­re­spon­dents have typ­i­cal­ly been chum­my with the White House staff. This is both to gain access to sources as a part of "access jour­nal­ism", but also because in nor­mal eras, pres­i­dents tend to speak pub­licly in a man­ner that is broad­ly in line with pub­lic opin­ion. There real­ly isn't nor­mal­ly a rea­son to be open­ly skep­ti­cal and hos­tile toward staff. While the Viet­nam era broke from this trend and saw more skep­ti­cal cov­er­age of the White House, the prac­tice and ethics of jour­nal­ism did not real­ly change over­all — inves­tiga­tive jour­nal­ism con­tin­ued to raise ques­tions about admin­is­tra­tion con­duct, but the beat reporters at the White House every day rarely chal­lenged what their offi­cials sources told them.
In a 2006 study, a researcher mapped the rela­tion­ship between Pres­i­den­tial state­ments of pub­lic pol­i­cy and pub­lic opin­ion from pres­i­dents Eisen­how­er to Clin­ton. He found that these pres­i­dents tend­ed to remain most­ly "con­gru­ent" with pub­lic opin­ion. In oth­er words, the post-World War II pres­i­dents of the 20th cen­tu­ry rarely strayed very far from the main­stream as expressed by pub­lic opin­ion polls. How­ev­er, in the 21st cen­tu­ry things start­ed to change. Start­ing with the elec­tion of George W. Bush on the back of an unprece­dent­ed par­ti­san inter­ven­tion by the Supreme Court into the elec­toral process, one could argue that pres­i­den­cies in the 21st cen­tu­ry have been abnor­mal com­pared to the post-WWII norm (at least for Repub­li­cans, who haven't won the pop­u­lar vote for a first term pres­i­dent since 1988).
Con­sid­er the case of how George W. Bush pro­mot­ed the inva­sion of Iraq in 2002. There is sig­nif­i­cant evi­dence that the Bush White House under­took a wide­spread cam­paign to manip­u­late media cov­er­age in his first term dur­ing the run up to the inva­sion of Iraq. Just as impor­tant­ly, the polit­i­cal media corps relied pri­mar­i­ly on sources loy­al to the White House in order to pro­duce cov­er­age of the run-up to the war — that access jour­nal­ism, men­tioned above. The end result was a gen­er­al­ly false por­trait of the stakes, issues, and ear­ly out­comes. In oth­er words, the pres­i­dent suc­cess­ful­ly whipped up war mania and the press went along with it because they weren't skep­ti­cal enough.
Under Bar­rack Oba­ma this con­tin­ued, though in a less per­ni­cious man­ner. Dur­ing his admin­is­tra­tion, Ben Rhodes, whose moth­er got him a job on the 9/11 com­mis­sion before he became a speech­writer for the Pres­i­dent and then, inex­plic­a­bly, the Deputy Nation­al Secu­ri­ty Advis­er, was instru­men­tal in shap­ing how the White House relat­ed to the press. In a bru­tal 2016 pro­file, Rhodes voic­es open con­tempt for the jour­nal­ists cov­er­ing the White House and for­eign pol­i­cy in Wash­ing­ton, DC and explained how he inten­tion­al­ly worked to manip­u­late them into giv­ing a pol­i­cy bet­ter cov­er­age (there is a lot more to this process, but that isn't the point here). While Rhodes tried to walk back his com­ments, the sting they left was real — and revealed a trou­bling rela­tion­ship between even a lib­er­al admin­is­tra­tion and the press.
Don­ald Trump has car­ried Rhode's con­tempt for the media into a high art form, and has made his dis­taste for the First Amend­ment — espe­cial­ly the media that cov­er his admin­is­tra­tion — a cor­ner­stone of his pres­i­den­cy. To put it plain­ly, call­ing the media an "ene­my of the peo­ple" is not only a broad­side on the con­sti­tu­tion (which enshrines the roll of the media as sacred), it echoes the lan­guage of total­i­tar­i­an­ism. Trump's hatred of, and efforts to manip­u­late, the media mat­ter a lot when it comes to under­stand­ing how he can shape pol­i­cy issues like immi­gra­tion. From the racist way Trump speaks about immi­grants (lit­er­al­ly where brown immi­grants are bad and white immi­grants are good) to the way he has enabled the Immi­gra­tion and Cus­toms Enforce­ment agency's bald-faced lying about its poli­cies to active­ly cause phys­i­cal and psy­cho­log­i­cal harm to migrants in deten­tion, Trump's hos­til­i­ty to both the media and to immi­gra­tion makes his admin­is­tra­tion a unique oppor­tu­ni­ty to think through how the President's lan­guage has an effect on the way immi­gra­tion gets cov­ered.
In gen­er­al, media cov­er­age of pres­i­den­tial speech­mak­ing cre­ates a height­ened aware­ness of the words the pres­i­dent uses to dis­cuss pol­i­cy issues. This means that the way Trump choos­es to talk about a top­ic itself cre­ates cov­er­age — and when he uses or approves of patent­ly racist, fear-mon­ger­ing lan­guage to dis­cuss immi­gra­tion the media that's duti­ful­ly cov­ers him will ampli­fy that lan­guage to the pub­lic at large. This is despite the fact that over­all media cov­er­age of the White House is in his­toric decline (hur­ried along by the White House opt­ing out of press con­fer­ences to lit­tle out­cry).
Even so, pub­lic speech­es and state­ments can still gen­er­ate sub­stan­tial cov­er­age and pub­lic dis­cus­sion – espe­cial­ly when con­tro­ver­sial. And Trump loves con­tro­ver­sy.
The way the media frame pres­i­den­tial remarks can prime the pub­lic to accept or reject pol­i­cy pro­pos­als. Thus, when the press cov­ers Trump ral­lies as if he were a nor­mal aspi­ra­tional fig­ure, and not one who rode a wave of racist xeno­pho­bia to the White House, it mat­ters. The way the media cov­er the pres­i­dent still plays a pow­er­ful shap­ing role for how the pub­lic reacts. Nor­mal­iza­tion is a real process and it can have a pow­er­ful effect on the coun­try.
Many jour­nal­ists are famil­iar with the conun­drum of cov­er­ing white suprema­cy and right wing vio­lence — the act of cov­er­age might pro­mote and spread it as a belief sys­tem. It can also go the oth­er way, as well: cov­er­age framed as neg­a­tive (ver­sus neu­tral or pos­i­tive) can fuel pub­lic sen­ti­ment against a pol­i­cy. For immi­gra­tion, the wide­spread, neg­a­tive cov­er­age of the "fam­i­ly sep­a­ra­tion" pol­i­cy at the south­ern bor­der helped to dri­ve a mas­sive back­lash that led to the policy's rever­sal. From the oth­er side, fram­ing the immi­gra­tion chal­lenge at the bor­der as a secu­ri­ty cri­sis, as opposed to a human­i­tar­i­an one, can dra­mat­i­cal­ly affect how peo­ple approach the top­ic.
The neg­a­tiv­i­ty of fram­ing is impor­tant to how media shape atti­tudes. There is a grow­ing body of evi­dence that divi­sive rhetoric is more effec­tive at shap­ing opin­ion that inclu­sive rhetoric, and when the press cov­ers or even ampli­fies divi­sive rhetoric, like what Trump used to ral­ly his base both dur­ing the elec­tion and dur­ing his admin­is­tra­tion, it res­onates more pow­er­ful­ly than inclu­sive rhetoric. Thus, when the media ampli­fy abu­sive, dehu­man­iz­ing, or racist speech com­ing from Trump, even when framed as "neu­tral" cov­er­age of the "con­tro­ver­sy," Trump's divi­sive­ness becomes more pow­er­ful. The tau­tol­ogy of cov­er­age applies here: by def­i­n­i­tion, if the media are cov­er­ing some­thing it is because they think it is impor­tant, so there­fore cov­er­ing an act of abuse or a con­tro­ver­sy can ampli­fy its impor­tance to the pub­lic – cre­at­ing a feed­back loop where­by even men­tion­ing an issue makes it seem more impor­tant to peo­ple.
This is where Trump's rhetoric on immi­gra­tion becomes wor­ri­some. Exper­i­men­tal data sug­gests that it is pos­si­ble for a pres­i­dent to use the lan­guage of moral pan­ic to prime the pub­lic to share his per­cep­tion of a pol­i­cy issue that he and his par­ty "owns." The pre­vi­ous four years of inflam­ma­to­ry state­ments has giv­en Trump own­er­ship of immi­gra­tion as a pol­i­cy area — some­thing the Democ­rats are des­per­ate­ly try­ing to claw back dur­ing the pri­ma­ry. The pres­i­dent has suc­cess­ful­ly turned immi­gra­tion, despite his­tor­i­cal­ly low lev­els of ille­gal cross­ings, into a moral pan­ic. Pre­vi­ous pres­i­dents, per­haps unin­ten­tion­al­ly, have deployed the lan­guage of moral pan­ic to shape how the pub­lic per­ceives and there­fore reacts to things like the war on drugs, the war on Iraq, the war on crime (see a pat­tern yet?), and now on immi­gra­tion.
So there is a process by which a pres­i­dent enjoys unique space to prime the pub­lic to embrace con­tro­ver­sy by talk­ing about a top­ic he is seen to "own" — and what top­ic does Trump "own" more than immi­gra­tion? — along with a lot of evi­dence that pres­i­dents and their staff can use the lan­guage of moral pan­ic to shape pub­lic opin­ion on that top­ic. Make no mis­take: Trump inten­tion­al­ly deploys the lan­guage of moral pan­ic to talk about immi­gra­tion (and sad­ly, draws on a long his­to­ry of moral pan­ic about immi­gra­tion in Amer­i­ca).
A jour­nal­ist who wants to cov­er this with­out mak­ing the anti-immi­gra­tion hys­te­ria worse has few mech­a­nisms to coun­ter­act the phe­nom­e­non. In the mod­ern, frac­tured media envi­ron­ment, dem­a­gogues are more eas­i­ly able to insert their ideas into pub­lic opin­ion under the dis­guise of open dis­course. We are all famil­iar with the nasty trolls who antag­o­nize peo­ple with tar­get­ed hate speech then whine that about the right to free speech being sup­pressed when faced with pub­lic oppro­bri­um. Too many jour­nal­ists, whether eager to demon­strate their rad­i­cal cen­trism or sim­ply oper­at­ing in pro­found­ly bad faith because it ben­e­fits them finan­cial­ly, decline to con­front dem­a­goguery and by default end up pro­mot­ing it.
More­over, the process of dem­a­gogues insert­ing extrem­ist ideas into pub­lic dis­course has been exac­er­bat­ed by the rise of social media, whose com­pa­nies are so inept­ly run a major­i­ty of Amer­i­cans think they are bad for human­i­ty, and whose algo­rithms ampli­fy polar­iza­tion and social divi­sion.
So, what hap­pens when a pres­i­dent inten­tion­al­ly tries "seed" pub­lic opin­ion by say­ing crazy shit to the media and get­ting lots of cov­er­age for it? Dur­ing the 2016 pres­i­den­tial elec­tion, the prim­ing effects of media cov­er­age played a strong role in foment­ing the rise of Don­ald Trump in a crowd­ed field of Repub­li­can con­tenders. As Thomas Pat­ter­son, a pro­fes­sor at Harvard's Shoren­stein Cen­ter on Media, Pol­i­tics, and Pub­lic Pol­i­cy not­ed in a detailed analy­sis of how the press cov­ered the elec­tion, even the neg­a­tive cov­er­age of Trump amount­ed to free adver­tis­ing that end­ed up pro­mot­ing his extrem­ist views to the pub­lic — some of whom picked it up and adopt­ed it as their own.
Because of the long-shot, often unpre­dictable nature of his can­di­da­cy the polit­i­cal press gave him far more cov­er­age than any oth­er can­di­date in the race — and that cov­er­age, espe­cial­ly at first, was large­ly pos­i­tive even from osten­si­bly "lib­er­al" out­lets. Yet, as the race pro­ceed­ed a destruc­tive mis­read­ing of the prin­ci­ple of fair­ness cre­at­ed an untrue per­cep­tion of moral equiv­a­lence in the pub­lic eye. One can­di­date con­tin­u­ous­ly to engage in racist speech against immi­grants (and a whole host of oth­er groups) while the oth­er can­di­date did not, yet the media nev­er­the­less cov­ered Trump and Hillary Clin­ton in almost equal­ly neg­a­tive terms — a dynam­ic Pat­ter­son high­lights as a major fail­ure of polit­i­cal jour­nal­ism:
If every­thing and every­one is por­trayed neg­a­tive­ly, there's a lev­el­ing effect that opens the door to char­la­tans. The press his­tor­i­cal­ly has helped cit­i­zens rec­og­nize the dif­fer­ence between the earnest politi­cian and the pre­tender. Today's news cov­er­age blurs the dis­tinc­tion.
Don­ald Trump was that char­la­tan. An analy­sis of word choic­es made in his pub­lic state­ments shows that he adopt­ed a com­bat­ive tone filled with demean­ing lan­guage couched in cat­e­gor­i­cal terms lack­ing nuance – espe­cial­ly toward the media, which guar­an­teed that the media would cov­er it. (After all, the one thing the press like to dis­cuss more than any­thing else is the press.) While Trump was open about his efforts to manip­u­late the media, it was still a nov­el phe­nom­e­non to mod­ern pres­i­den­tial pol­i­tics, where the press don't expect to be attacked as "ene­mies of the peo­ple" by either a cam­paign or an elect­ed offi­cial. They were unpre­pared — typ­i­cal­ly, access jour­nal­ism doesn't require nav­i­gat­ing this sort of chal­lenge.
Thus, Trump's use of shock­ing lan­guage and a com­bat­ive stance "aid­ed his cause as a can­di­date because it sig­naled a rejec­tion of both the sta­tus quo and polit­i­cal con­ven­tion to a con­stituen­cy eager to see those things shak­en up," accord­ing to aca­d­e­m­ic researchers. In oth­er words, by attack­ing the media as often as he attacked a spe­cif­ic pol­i­cy tar­get, Trump guar­an­teed that his view­point would be wide­ly dis­sem­i­nat­ed. The press helped this process along and framed his ideas as anti-estab­lish­ment, rather than extrem­ist. As a result, media cov­er­age of Trump's con­tro­ver­sial state­ments had the para­dox­i­cal effect of enabling more peo­ple to express sim­i­lar ideas.
The main­stream press remains unpre­pared to counter the effects of rad­i­cal right wing par­ti­sans mas­querad­ing as jour­nal­ists. Extrem­ist right wing out­lets like Bri­et­bart, Fox News, and InfoWars deci­sive­ly shaped the broad­er media envi­ron­ment dur­ing the 2016 elec­tion by cre­at­ing echo cham­bers that ampli­fied fringe con­spir­a­cy the­o­ries (like Piz­za­Gate) into the main­stream on the right. Once a fringe idea made it into those out­lets, it received cov­er­age in the tra­di­tion­al media out­lets and spread fur­ther — despite skep­ti­cal cov­er­age by osten­si­bly "lib­er­al" out­lets.
More wor­ry­ing­ly, both The New York Times and the The Wash­ing­ton Post part­nered in 2015 with Peter Schweiz­er, a Bre­it­bart con­trib­u­tor and pro­tégé of white suprema­cist Repub­li­can oper­a­tive Steve Ban­non, to dis­sem­i­nate por­tions of his anti-Clin­ton book under the guise of news cov­er­age. It didn't seem to mat­ter to them that many of the claims in the book were unsub­stan­ti­at­ed, that it mis­un­der­stood the basic oper­at­ing of fed­er­al agen­cies and the law, or that it often segued into con­spir­a­cy the­o­ries. The blur­ring of earnest­ness and char­la­tans that Pat­ter­son described was enact­ed into edi­to­r­i­al pol­i­cy at two of the country's largest and most influ­en­tial news out­lets.
When these main­stream out­lets part­nered with a rad­i­cal par­ti­san to direct their cov­er­age of only one can­di­date in the race, they demon­strat­ed how the mod­ern polit­i­cal media is an envi­ron­ment in which dem­a­gog­ic lan­guage can get ampli­fied through alter­na­tive media and seem main­stream much more effec­tive­ly than in pre­vi­ous eras. This means that Pres­i­dent Trump's untra­di­tion­al use of lan­guage to incite oppo­si­tion to immi­gra­tion has had a deep­er effect on the pub­lic than it would have in pre­vi­ous eras. It is sort of new ter­ri­to­ry for every­one, and there remains a lot of study to be done about how this is going to play out.
How­ev­er, it is not a giv­en — not yet, any­way — that Pres­i­dent Trump is turn­ing the coun­try against immi­grants. Back­lash to harsh poli­cies like fam­i­ly sep­a­ra­tion and the trav­el ban sug­gest that there are lim­its to how far a pres­i­dent can push the pub­lic at any point in time. But the pub­lic does change over time, and it's worth explor­ing how they both influ­ence and are influ­enced by this process as well.
The Public
Immi­gra­tion is not the most emo­tion­al­ly charged polit­i­cal debate in Amer­i­ca today (abor­tion is far more emo­tion­al). But immi­gra­tion sits at the nexus of sev­er­al extreme­ly emo­tion­al top­ics like iden­ti­ty, race, class, and inclu­sive­ness (here is an excel­lent book on this inter­sec­tion). But does the pub­lic lead or fol­low how polit­i­cal lead­ers behave and pass laws? As is becom­ing a theme, the answer is a bit com­pli­cat­ed.
In a recent study that exam­ined how sen­ti­ments expressed on Twit­ter changed in rela­tion to an extrem­ist anti-immi­gra­tion law passed in Ari­zona, Rene Flo­res found that anti-immi­grant poli­cies can "stir the pot" and mobi­lize anti-immi­grant indi­vid­u­als. This mobi­liza­tion effect was nar­row­ly tar­get­ed at the tar­get of the pol­i­cy, so in this case the mobi­liza­tion against Lati­nos did not result in a mobi­liza­tion against immi­grants from out­side Latin Amer­i­ca or against racial minori­ties more broad­ly. Even so, the effect is real — racist peo­ple real­ly do get embold­ened by racist pol­i­cy and racist lan­guage from lead­ers, and cre­ate the impres­sion that racism is grow­ing in pop­u­lar­i­ty. Even if it's lim­it­ed to a sin­gle scape­goat of a group, it mat­ters and is mea­sur­able.
And this embold­en­ing can be con­ta­gious. What we think of as "the pub­lic" is not the sum total of every­one in a com­mu­ni­ty — it is usu­al­ly a com­bi­na­tion of the most vocal, those most will­ing to speak up to jour­nal­ists or to respond to instru­ments like sur­veys. A major chal­lenge to cre­at­ing any sort of poll is a respon­dent giv­ing answers that reflect the assumed bias­es of the polling com­pa­ny, rather than their own beliefs. In elec­tions were race is a fac­tor, this is called the Bradley Effect, where­by peo­ple will tell poll­sters they'll vote for a minor­i­ty can­di­date but intend to vote for a white can­di­date; more broad­ly in sur­veys it's called the response bias. Such bias, espe­cial­ly when not account­ed for in a survey's design, can have a major effect on how the media frame an issue that's based on such a sur­vey, and thus snow­ball unpop­u­lar opin­ions to a per­ceived pop­u­lar­i­ty.
To recap: we have a mech­a­nism for how nor­mal­iz­ing anti-immi­grant atti­tudes with anti-immi­grant poli­cies can change the per­cep­tion of pub­lic opin­ion on a top­ic both by mak­ing anti-immi­grant peo­ple more vocal and by inspir­ing oth­ers who may think it is expect­ed to be anti-immi­grant to voice those sen­ti­ments. Think of how politi­cians band­wag­on on catch phras­es like "of course we should enforce the law" when they real­ly want to change the law in a more humane direc­tion (there's also the oppo­site, overen­force­ment, which is how the Trump White House jus­ti­fies its cru­el­ty toward migrants). The feed­back loop of media cov­er­ing racist per­spec­tives on immi­gra­tion as if they're main­stream cre­ates the per­cep­tion effect that immi­grants are less accept­ed than they real­ly are, which can have a damp­en­ing effect on how pro-immi­grant peo­ple mobi­lize. In oth­er words, opin­ion and per­cep­tion don't exist in a vac­u­um — they can both dri­ve out­comes and be shaped by the media and polit­i­cal envi­ron­ment.
As an exam­ple, con­sid­er how Trump's first cam­paign speech, where­in he called Mex­i­can immi­grants rapists and drug deal­ers, res­onat­ed in pre­vi­ous­ly fringe areas of white griev­ance pol­i­tics. Mar­i­lyn Mao, of the Anti-Defama­tion League's Cen­ter on Extrem­ism, said that the white suprema­cist move­ment had been "ener­gized" by the rhetoric he deployed to talk about immi­grants. Storm­front, a white suprema­cist web­site, ful­some­ly praised Trump in the ear­li­est days of his cam­paign; for­mer Ku Klux Klan leader David Duke has repeat­ed­ly praised Trump; and the neo-nazi Richard Spencer cel­e­brat­ed the elec­tion with a Nazi salute while scream­ing "Heil Trump."
Groups that pre­vi­ous­ly act­ed as mar­gin­al began to act like they were main­stream. The media duti­ful­ly fol­lowed the trend and flood­ed the zone with chum­my pro­files of white suprema­cists that por­trayed them as if they were valid mem­bers of soci­ety instead of the out­casts they were just a year pre­vi­ous­ly. This is a feed­back loop, where­by the per­cep­tion of white suprema­cy being main­stream leads to media treat­ment of it as main­stream — and it can lead to reg­u­lar peo­ple think­ing it is a main­stream belief, too.
The data about how embold­ened white suprema­cy has become is wor­ry­ing. Mark Potok of the South­ern Pover­ty Law Cen­ter said that Trump's use of dehu­man­iz­ing rhetoric was being "tak­en as a per­mis­sion-giv­ing by crim­i­nal ele­ments who go out and act on their words." Hate crimes are ris­ing pre­cip­i­tous­ly, and there are wor­ry­ing signs that police forces are active­ly col­lab­o­rat­ing with far right and white suprema­cist protest lead­ers even at the fed­er­al lev­el. The main­stream­ing of this belief sys­tem is mea­sur­able, and it is grow­ing: a recent Pew sur­vey found a major­i­ty of Amer­i­cans think that race rela­tions are get­ting worse, and think this divi­sion is being dri­ven by Don­ald Trump and his admin­is­tra­tion.
How­ev­er, it is not yet clear that Trump's rhetoric has influ­enced the over­all atti­tude of the pub­lic toward immi­grants. A recent nation­al sur­vey shows that while only 45% of Amer­i­cans know most immi­grants are in the coun­try legal­ly, a super­ma­jor­i­ty of Amer­i­cans feel sym­pa­thy toward all immi­grants, both doc­u­ment­ed and undoc­u­ment­ed. And over the last two decades, pub­lic oppo­si­tion to immi­gra­tion has dropped dra­mat­i­cal­ly and remains his­tor­i­cal­ly low com­pared to the ear­ly 1990s, even as the num­ber of undoc­u­ment­ed immi­grants has fall­en to his­toric lows. Among Lati­nos as well, there has a sea change in opin­ion about immi­gra­tion: in 2002 around half felt there were too many Lati­no immi­grants, while now around half think there are just the right amount. So the pub­lic isn't nec­es­sar­i­ly being led by the nose about a nativist crack­down.
But oth­er pub­lic sen­ti­ment polls sug­gest that the White House's sharply neg­a­tive rhetoric toward immi­grants is hav­ing an effect. In mid-2018, Gallup report­ed a sharp increase in the num­ber of Amer­i­cans who said immi­gra­tion was the top prob­lem fac­ing the coun­try, and this num­ber has held steady for over a year. There is some nuance here, as it is unclear whether the top prob­lem is immi­gra­tion per se, or just ille­gal immi­gra­tion, or the prob­lem­at­ic way this admin­is­tra­tion has cho­sen to respond to it. Either way, this change in sen­ti­ment appears to be a reac­tion to an entire­ly invent­ed cri­sis: for fis­cal year 2017, the last year for which there was data from the Oba­ma admin­is­tra­tion, the C.B.P. report­ed bor­der appre­hen­sions had dropped to a 30-year low. A year lat­er, after the Trump admin­is­tra­tion imple­ment­ed its var­i­ous anti-immi­grant poli­cies, appre­hen­sions began to spike again (but still remained his­tor­i­cal­ly very low).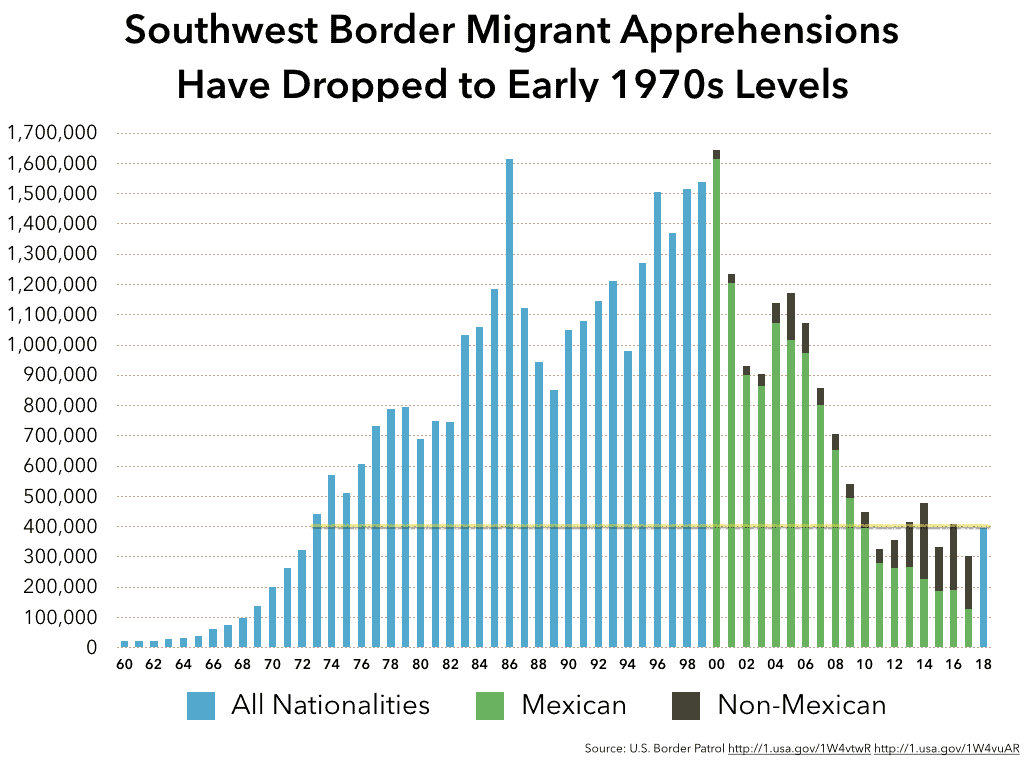 How could peo­ple per­ceive there to be a his­toric prob­lem when the government's own data show the oppo­site? Part of it is enforce­ment: before Trump changed the rules gov­ern­ing how ICE and CBP han­dle asy­lum seek­ers, peo­ple who filed a pro­tec­tion claim could be released with the stip­u­la­tion that they check in peri­od­i­cal­ly with the agency or a des­ig­nat­ed social work­ers. The pro­gram had a 99% check—in rate. Trump end­ed that pro­gram (and a few oth­ers like it) and caused a sud­den spike in the num­ber of peo­ple being placed into deten­tion. The stress on the sys­tem that offi­cials point to as a jus­ti­fi­ca­tion for poor con­di­tions inside the camps is invent­ed. It doesn't have to be a stress; the pres­i­dent wants it to be a stress.
The pres­i­dent shapes the nation­al agen­da by invent­ing con­tro­ver­sy, like the bor­der cri­sis. This isn't just a ques­tion of lan­guage choic­es and rhetoric — there is a gen­uine human­i­tar­i­an cri­sis at the bor­der, but it is the result of delib­er­ate choic­es to harm immi­grants, not any resource or pol­i­cy gap that's being exploit­ed (though smug­glers do manip­u­late peo­ple into migrat­ing with false promis­es).
In Jan­u­ary of 2019, a leaked memo from the Depart­ment of Home­land Secu­ri­ty shows that dur­ing a peri­od of his­tor­i­cal­ly low migra­tion, the fed­er­al gov­ern­ment draft­ed a pol­i­cy to specif­i­cal­ly tar­get fam­i­lies seek­ing asy­lum for mis­treat­ment in the hopes that such mis­treat­ment would deter oth­er migrants. They made this deci­sion after clos­ing down in-coun­try asy­lum pro­cess­ing cen­ters in Cen­tral Amer­i­ca in 2017. This is what's known as a "pull fac­tor" — by clos­ing down cen­ters in the region, the admin­is­tra­tion forced asy­lum-seek­ing migrants to jour­ney to the bor­der if they want­ed to file a pro­tec­tion claim. (This is apart from the many struc­tur­al "push" fac­tors inspir­ing peo­ple to leave their homes, and the oth­er "pull" fac­tors that make the U.S. unique­ly attrac­tive as a des­ti­na­tion). Last­ly, the White House had declined to assign addi­tion­al resources to fair­ly house migrants who await hear­ings or to expand the courts and per­son­nel need­ed to adju­di­cate claims — rather, the pres­i­dent has focused on mis­us­ing the mil­i­tary and mis­ap­pro­pri­at­ing funds to build a wall that won't address the cur­rent back­log of peo­ple trapped in abu­sive con­di­tions.
This gap in per­cep­tions is some­thing the admin­is­tra­tion is count­ing on: they assume most peo­ple won't real­ize the cri­sis is entire­ly self-gen­er­at­ed with the intent of impos­ing cru­el­ty. And that is because the pub­lic can also exert influ­ence on pol­i­cy. When the first news broke of the fam­i­ly sep­a­ra­tion pol­i­cy, the out­cry was sus­tained and fierce — to the point of direct­ly con­fronting offi­cials in pub­lic dur­ing their "off" hours. The mas­sive amount of pres­sure exert­ed by peo­ple out­raged by the sight of young chil­dren scream­ing for their par­ents and sleep­ing on con­crete floors in cages was ampli­fied by friend­ly media cov­er­age. The onslaught made it impos­si­ble for offi­cials to get their own mes­sages into the pub­lic, and after sev­er­al months they relent­ed… sort of (abu­sive poli­cies and treat­ment have con­tin­ued, includ­ing rip­ping apart fam­i­lies, but with far less trans­paren­cy).
More recent­ly, efforts to expose the ongo­ing abuse of young chil­dren in immi­gra­tion deten­tion has had a hard­er time gain­ing trac­tion. Out­rage fatigue is real and it lim­its just how often the pub­lic can be mobi­lized — espe­cial­ly when it results in min­i­mal or no change at the pol­i­cy lev­el (the immu­ni­ty of the Trump admin­is­tra­tion to broad pub­lic oppo­si­tion at most of its poli­cies is sure­ly an inter­est­ing dis­ser­ta­tion top­ic an aspir­ing polit­i­cal sci­en­tist could exam­ine in detail).
Activists also strug­gle to main­tain pub­lic pres­sure on offi­cials because of a mass mobi­liza­tion of dis­in­for­ma­tion onto social media to push mis­lead­ing nar­ra­tives about immi­grants approach­ing the south­ern bor­der — some of them are bots, many are essen­tial­ly cit­i­zen pro­pa­gan­dists moti­vat­ed by pro­found­ly bath faith about the issue and fed talk­ing points by a vast right-wing media ecosys­tem. As a result, pub­lic com­ments on news about migrants is filled with hate­ful, dehu­man­iz­ing speech about chil­dren in cages, as if their lack of an immi­grant visa means they should be denied things like soap and tooth­brush­es. By employ­ing FUD — fear, uncer­tain­ty, doubt — and the public's gap in knowl­edge, the Trump admin­is­tra­tion hopes to get away with its dehu­man­iz­ing abuse of the peo­ple in deten­tion.
Sur­veys show that Amer­i­can atti­tudes toward immi­gra­tion are more com­plex than sim­ply pro- or con, no mat­ter what the weird sig­nal boost­ing of social media algo­rithms might have you believe. Amer­i­cans tend to have two com­pet­ing desires: a gen­er­al sense that immi­gra­tion should be reduced or kept low but also a strong sense that refugees should be admit­ted, fam­i­lies reuni­fied, and skilled labor from abroad recruit­ed. The com­bi­na­tion of both instincts gives a broad lee­way for what might be con­sid­ered main­stream in immi­gra­tion pol­i­cy. As lead­ers respond to these dif­fer­ent com­pet­ing desires, immi­gra­tion pol­i­cy can shift dra­mat­i­cal­ly while still being broad­ly with­in the realm of "sup­port­ed by the pub­lic."
The con­tra­dic­to­ry impuls­es of the pub­lic also pro­vide an oppor­tu­ni­ty for activists to shift the nar­ra­tive. Groups like RAICES have dra­mat­i­cal­ly grown due to an influx of dona­tions, and giv­en their mis­sion they have a lot of pow­er to frame an agen­da dur­ing media cov­er­age — assum­ing a jour­nal­ist can be con­vinced to stray out­side offi­cial sources while report­ing a sto­ry.
Seen in this light, then, there remains an oppor­tu­ni­ty to con­tin­ue to con­strain the worst abus­es of the Trump admin­is­tra­tion through con­tin­ued pub­lic out­reach and sus­tained pres­sure on his offi­cials who are enforc­ing them. A minor­i­ty of the pub­lic believes that the abu­sive con­di­tions at the deten­tion camps jus­ti­fy call­ing them "con­cen­tra­tion camps," but recent Con­gres­sion­al del­e­ga­tions to the bor­der, along with inves­tiga­tive jour­nal­ism, has the poten­tial to fur­ther shift opin­ion.
How to Respond
To recap: we have estab­lished that pres­i­den­tial rhetoric is pow­er­ful and can influ­ence the pub­lic. We have estab­lished that it has a pow­er­ful role in shap­ing how the media choose to cov­er cer­tain issues and in what way. And we have estab­lished that the cur­rent pres­i­dent has a unique propen­si­ty for using divi­sive lan­guage to trig­ger and ampli­fy white griev­ance pol­i­tics.
This means the way the pres­i­dent has approached the top­ic of immi­gra­tion is inher­ent­ly fraught — it is a high­ly emo­tion­al top­ic that often works at a sub­lim­i­nal lev­el of vis­cer­al reac­tions, and is rarely con­nect­ed to real-world data and facts. Yet, as Adam Ser­w­er puts it, whether Amer­i­ca can con­tin­ue as a mul­ti-racial democ­ra­cy is an exis­ten­tial ques­tion for the 2020 elec­tion — not just for the Unit­ed States, but glob­al­ly. It is lit­er­al­ly a ques­tion of whether a lib­er­al (lowercase‑L) soci­ety, which is to say one that pro­tects fun­da­men­tal free­doms and rights of all cit­i­zens not just the eth­nic major­i­ty — can exist. But all isn't lost; after all, he notes:
A plu­ral­i­ty of Amer­i­cans in 2016 and 2018 vot­ed against defin­ing Amer­i­can cit­i­zen­ship in racial terms, some­thing that has per­haps nev­er hap­pened before in the his­to­ry of the Unit­ed States. There was no anti-racist major­i­ty at the dawn of Recon­struc­tion, dur­ing the hey­day of immi­gra­tion restric­tion, or in the twi­light of the civ­il-rights move­ment. The vot­ers of this coali­tion may yet defeat Trump­ism.
There's a lot that indi­vid­ual, nor­mal peo­ple can do to oppose racism expressed as anti-immi­gra­tion com­ing from the top.
Decide to act
Dele­git­imiz­ing immi­grants through hate speech and abu­sive poli­cies must be con­sid­ered unac­cept­able in a civ­il soci­ety. It's a giv­en that cit­i­zens can­not exist equal­ly if the gov­ern­ment is using its vast pow­er to sin­gle out non-white groups for cen­sure and mis­treat­ment; but the same holds true for non-cit­i­zens as well (nowhere in the con­sti­tu­tion are non-cit­i­zens exempt­ed from the pro­tec­tions of the Bill of Rights). Karl Pop­per famous­ly called it the para­dox of tol­er­ance: "In order to main­tain a tol­er­ant soci­ety, the soci­ety much be intol­er­ant of intol­er­ance." This means choos­ing to be intol­er­ant of intol­er­ance on an indi­vid­ual basis, and behav­ing accord­ing­ly.
Think of it as an immune response: end­less stud­ies have demon­strat­ed con­clu­sive­ly that immi­gra­tion is good for soci­eties. This isn't some fuzzy argu­ment about cul­tur­al mix­ing, either: econ­o­mists pub­lished peer-reviewed research in March, 2019, that showed con­clu­sive­ly that immi­grants are good for the econ­o­my. Even with­in the Unit­ed States, the coun­ties that had more immi­gra­tion between 1850 and 1920 had high­er income, less pover­ty, less unem­ploy­ment, high­er rates of urban­iza­tion, and more edu­ca­tion than coun­ties with less immi­gra­tion.
And think of the pub­lic out­cry to the first Mus­lim trav­el ban, and to the first round of fam­i­ly sep­a­ra­tion at the south­ern bor­der: decid­ing to act works. Pub­lic out­cry works. So choose to par­tic­i­pate in the out­cry.
Speak Plainly
There is an art to speak­ing truth to some­one who is unwill­ing to hear it. When some­one uses racist lan­guage, iden­ti­fy it in plain lan­guage.
Aston­ish­ing­ly, this has been a chal­lenge for many polit­i­cal jour­nal­ists for a vari­ety of rea­sons behind the scope of this essay. Indeed, as we not­ed ear­li­er, the sim­ple act of cov­er­ing how the pres­i­dent talks about immi­gra­tion can itself do dam­age by ampli­fy­ing racist ideas and refram­ing the dis­cus­sion in a way that down­plays the human­i­ty of the peo­ple under dis­cus­sion.
Mar­garet Sul­li­van has one idea: a "truth sand­wich," where­by a false or racist claim is con­tex­tu­al­ized before and after with facts that demon­strate its fal­si­ty or abu­sive­ness.
This is not a carte blanche to be a jerk while speak­ing plain­ly (though that some­times might be war­rant­ed). Rather, think through how to use plain lan­guage to cut through the weasel words and jus­ti­fi­ca­tion some­one might be using to defend the inde­fen­si­ble: What do you mean by that? Do you real­ize why it's hurt­ful? Do you care?
Some­times a per­son might not care that they're being hurt­ful. If so, it is impor­tant to talk plain­ly about that, too: jerks need to be iden­ti­fied as jerks.
Do Not Fear Confrontation
In 2017, Richard Spencer, a white nation­al­ist noto­ri­ous for lead­ing a ball­room in Nazi salutes while yelling "Heil Trump" dur­ing the elec­tion and lead­ing tiki-torch wield­ing white peo­ple shout­ing "Jews will not replace us" at the Char­lottesville Nazi ral­ly, was work­ing out at a gym in Alexan­dria, Vir­ginia. He did this not only because most peo­ple don't know who he is, but because he counts on being able to "pass" into polite soci­ety when he real­ly has no busi­ness being there.
A pro­fes­sor at George­town con­front­ed Spencer, loud­ly con­demn­ing his white suprema­cist views and demand­ing he leave the gym. The gym agreed and barred him from work­ing out there.
Some oth­er exam­ples of con­fronting the peo­ple who pro­mote inhu­mane treat­ment of non-white peo­ple:
Dur­ing the height of the child sep­a­ra­tion pol­i­cy, then-sec­re­tary of the Depart­ment of Home­land Secu­ri­ty Kris­ten Nielsen decid­ed to eat at a Mex­i­can restau­rant in Wash­ing­ton

DC

(the optics of which went unre­marked upon in the cov­er­age). A net­work of activists spot­ted her and con­front­ed her, pub­licly, yelling "shame" until she left.
In Ken­tucky, Sen­ate Major­i­ty Leader Mitch McConnell was con­front­ed by anoth­er group of pro­test­ers, part of a series of pub­lic con­fronta­tions over his con­duct as Major­i­ty Leader.
Stephen Miller, a senior advis­er to Don­ald Trump wide­ly viewed as the archi­tect of his racist immi­gra­tion pol­i­cy, was cursed at by a bar­tender as he picked up take­out sushi.
Sarah Huck­abee Sanders, then the White House spokesper­son, was con­front­ed at a restau­rant for mak­ing the staff uncom­fort­able by her very pres­ence and was polite­ly asked to leave.
These inci­dents did not on their own change the terms of the immi­gra­tion debate. What they did was demon­strate that hold­ing odi­ous views and enact­ing them as pol­i­cy is unac­cept­able in polite soci­ety, and that those who defend and enact such poli­cies will not be accept­ed in nor­mal soci­ety. The peo­ple who defend this con­duct are des­per­ate to be accept­ed — deny­ing them that accep­tance is painful, and far less painful than the way immi­grants are treat­ed by this admin­is­tra­tion.
There is a trap in this approach, which is the dread­ed cry of "civil­i­ty." This is where the above point about speak­ing plain­ly becomes impor­tant. Civil­i­ty does not include let­ting teenagers vom­it to death from the flu in a crowd­ed cell because CBP guards deny him med­ical treat­ment. Civil­i­ty does not include rip­ping infants away from their par­ents and caus­ing per­ma­nent emo­tion­al trau­ma as a "deter­rent" to claim­ing asy­lum. It isn't civ­il to pack peo­ple so tight­ly in freez­ing cells with noth­ing more than a shared sleep­ing pad and alu­minum blan­ket that they can't even lie down.
Civil­i­ty is a two-way street. Don't let the abusers hide behind it. Speak the plain truth about abuse and abu­sive behav­ior — don't let some­one pre­tend to be nor­mal when they are an abuser.
Understand — And Communicate — The Bigger Picture
When the pres­i­dent talks about immi­gra­tion it isn't just about immi­gra­tion. His admin­is­tra­tion inten­tion­al­ly broke the immi­gra­tion courts to cre­ate a back­log of cas­es and to crowd deten­tion facil­i­ties. He man­u­fac­tured a human­i­tar­i­an cri­sis to cre­ate urgency and demand a res­o­lu­tion on his terms.
Trump's pri­ma­ry financier and patron. Robert Mer­cer, is an investor in the pri­vate secu­ri­ty com­pa­nies that oper­ate these camps — their invest­ments in these com­pa­nies have paid off at exor­bi­tant rates since they began fill­ing up with migrant chil­dren.
It's also not about crime of the econ­o­my. Peo­ple aren't try­ing to immi­grate to the U.S. because they want to hurt the coun­try. The rea­son peo­ple are flood­ing to the bor­ders is part of a region­al clus­ter of chal­lenges, from vio­lence to insti­tu­tion­al fail­ures to the long lega­cy of dis­as­trous U.S. poli­cies toward Latin Amer­i­ca. But these immi­grants com­mit far less crime than native cit­i­zens; and cities that wel­come large num­bers of immi­grants are more eco­nom­i­cal­ly suc­cess­ful than those that don't. The eco­nom­ic argu­ment favors more immi­gra­tion, not less.
Con­sid­er the pres­i­dent say­ing he wants to increase immi­gra­tion from Nor­way and to decrease it from coun­tries he called "shit­holes." The clear impli­ca­tion is that white Euro­peans are "good," while non-white peo­ple from out­side Europe are "bad" (there are some­times allowances made for peo­ple of Asian her­itage, based on dam­ag­ing stereo­types about aca­d­e­m­ic per­for­mance). The type of "accept­able" non-white immi­grant changes over time, too. The Chi­nese Exclu­sion Act of 1882 is only the first exam­ple of restrict­ing immi­gra­tion explic­it­ly on race; oth­ers include mass oppo­si­tion to Ital­ians, Irish, and South­ern Euro­peans more gen­er­al­ly. Each type of restric­tion revolves around who gets to be "white."
Not for noth­ing, but before 1970 peo­ple from Mex­i­co, Cuba, and Puer­to Rico were con­sid­ered "white" in offi­cial gov­ern­ment records. It was years of advo­ca­cy by activists that got the new racial cat­e­go­ry "His­pan­ic" added to the 1970 cen­sus. The ques­tion of who gets to be con­sid­ered "white" in Amer­i­ca is always up for nego­ti­a­tion, but the one con­stant is that white­ness is "good" and non-white­ness is "bad." America's orig­i­nal sin, white suprema­cy, is inescapable in this dis­cus­sion.
The big­ger pic­ture here isn't that racial exclu­sions are okay; but rather that they're not. In the 21st cen­tu­ry restrict­ing immi­gra­tion based on Catholi­cism sounds bizarre and vague­ly ille­gal; yet the admin­is­tra­tion con­vinced the Supreme Court under dubi­ous rea­son­ing to allow an explic­it ban on the basis of a coun­try hav­ing an Islam­ic major­i­ty. The tar­gets will always change over time, but the cen­tral belief sys­tem of white suprema­cy remains the same.
So what to do?
There is no one thing that an indi­vid­ual per­son can do to com­bat the white suprema­cy being expressed as immi­gra­tion pol­i­cy at the White House. Decid­ing to act, using plain lan­guage, embrac­ing con­fronta­tion when nec­es­sary, and com­mu­ni­cat­ing the big­ger pic­ture about these poli­cies and words will not end the prob­lem overnight.
Aldous Hux­ley, in the intro­duc­tion to Brave New World, said "The price of lib­er­ty, and even of com­mon human­i­ty, is eter­nal vig­i­lance." He was draw­ing on a long line of sim­i­lar state­ments stretch­ing back to the ear­ly 19th cen­tu­ry, but his includ­ing of "com­mon human­i­ty" is what strikes me as being espe­cial­ly ger­mane. Immi­gra­tion is often delib­er­at­ed out­side the bounds of what we would con­sid­er to be a ques­tion of lib­er­ties — immi­gra­tion courts oper­ate under a sep­a­rate sys­tem of laws and rights than do nor­mal courts, and the courts have decid­ed that an undoc­u­ment­ed migrants can still have "due process" even if they're nev­er offered the chance to chal­lenge pro­ceed­ings in court.
This is a long term chal­lenge, and it can only be addressed with a view toward the long term.
Con­sid­er­ing the basic human­i­ty of the peo­ple in ques­tion, there­fore, brings the dis­cus­sion beyond a legal­is­tic pars­ing of reg­u­la­tions toward a fun­da­men­tal ques­tion of fair­ness, dig­ni­ty, and jus­tice. Arriv­ing at a bor­der with­out doc­u­men­ta­tion is not an excuse for abu­sive, dehu­man­iz­ing treat­ment, and no one advo­cat­ing such a thing should be allowed to do so with­out chal­lenge.
So, know­ing how this rhetoric can prop­a­gate and infect the pub­lic dis­course like a meme, and how to fight back against that rhetoric, is a vital first step toward revers­ing the abus­es hap­pen­ing in our name.